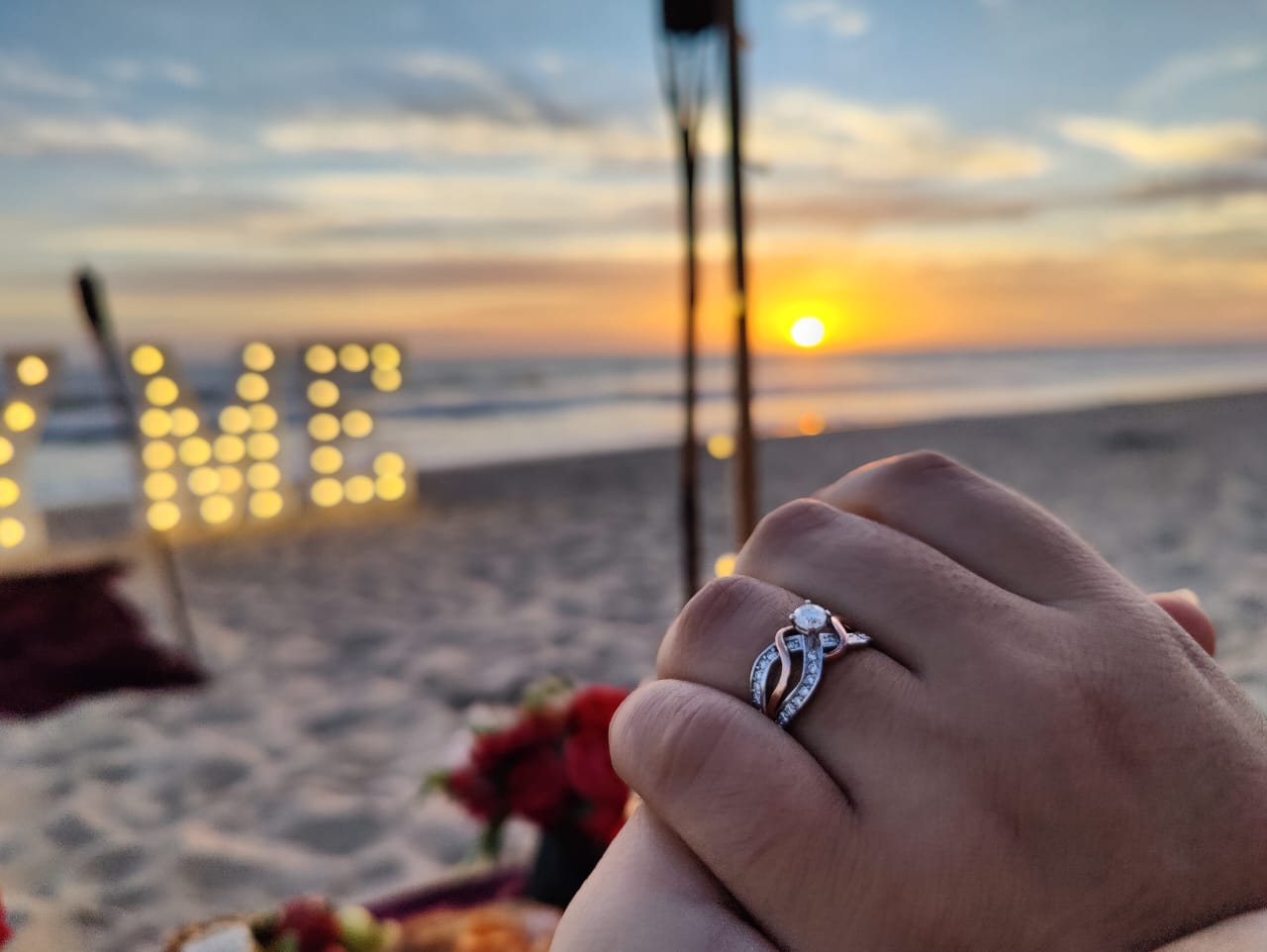 3 Ideas for Getting Married in Mazatlan 🌴💍
Immerse yourself in the golden beaches of Mazatlan and make your proposal shine like the midday sun!
If you are looking for a perfect place to propose, Mazatlan is your destination. But how to make it special? We help you with that!
In paradise every day is February 🌹 14
In the paradise of Mazatlan, every day is perfect for love. 😍 With so much information online, it can be overwhelming to find the perfect experience for your proposal. Forget about those generic experiences! Here, we present three genuine and magical ideas that will give a special flavor to your proposal in Mazatlan.
❤️ Idea 1: Picnic Romántico en las Playas de Mazatlán 🥂🍓
Think about it: The last lights of the day bathing the horizon in golden tones, the fresh sea air caressing your skin, and right there, in the middle of the beach, an exclusive corner for you and your partner. A meticulously prepared picnic, with gourmet delicacies and details that reflect the love and care in your choice. It's more than just a picnic; is an oasis of romance and connection in the middle of the paradise that is Mazatlan.
This proposal has not only captivated for its authenticity and romanticism, but also for being a pocket-friendly option, proving that it is not necessary to spend a fortune to create magical moments.
And so that that moment does not fade with the last ray of sun, we offer you a first-class photographic service. A professional dedicated to freezing every caress, every smile, every toast, transforming that moment into an eternal memory. In Mazatlan, we promise you not only an experience, but a sentimental journey that both will treasure forever. 🥂💑📸
Preguntas frecuentes sobre el Picnic Romántico en las Playas de Mazatlán 🌅
❤️ Idea 2#: Cena Romántica Frente al Mar 🍽️🌊
Imagine your romantic dinner in front of the sea in Mazatlan: The sunset dyeing the sky orange and pink tones, a table decorated with subtle and elegant details waiting for you at the seashore. The dim lights create an intimate atmosphere, just for you and your loved one, while the soft murmur of the waves accompanies every word, every laugh, every look.
David Montoya, our master in creating unforgettable experiences, has thought of every detail to make this romantic dinner simply perfect.
But why stop there? Add to this scene a professional photographer who will capture every moment, every emotion. Thus, not only will you take that magical moment in your heart, but you will also have a tangible memory, a story in images that you can always share and relive. In Mazatlan, we offer you more than a dinner; We offer you an experience that will be engraved in the soul.
Preguntas Frecuentes - Cena Romántica frente al Mar
Of course! We work with restaurants that offer varied menus and are willing to accommodate special requests, whether specific diets, allergies or just your favorite dishes.
All the restaurants with which we collaborate have been carefully selected by our Planner Experience, David Montoya, always looking for quality, excellent service and, of course, stunning views of the sea.
Definitely! We love surprises and are here to help you plan every detail. If you have live music, extra flowers or any other ideas in mind, just let us know and we'll arrange it for you.
❤️ Idea 3#: Paseo por la Playa con Fotógrafo Profesional 📸🌴
Walk hand in hand, with the horizon of the sea as a witness and the soft crackle of the waves as a background melody.
Feel the freshness of the sand caressing your feet, and as you immerse yourself in that magical moment, there is someone else who is also immersed in that moment: our professional photographer, Sebastian. With each click of his camera, he not only captures an image, but an emotion, a story, a feeling. That shy laugh, that knowing look, the twinkle in your eyes when you finally ask the big question… Everything is immortalized forever.
Because with Sebastian, we not only guarantee photographs, we guarantee memories that will tell your love story for generations. Ready for us to write that beautiful chapter together on the beaches of Mazatlan? 📸❤️🌊
Preguntas frecuentes sobre el Paseo Fotográfico:
💍 La Elección del Anillo: Un Símbolo de Amor Eterno
The marriage proposal is a moment that will be engraved in the memory of both forever, and the ring is the symbol that will seal it. It's not just a shiny object; It represents the commitment, promise and unconditional love you feel towards your partner. Choosing the perfect ring is a momentous decision, as it is a reflection of what you feel and what you hope to share in the future.
Are you looking for that special ring in Mazatlan, Sinaloa? We invite you to discover the best jewelry stores in Mazatlan where you will find unique designs, from the most classic to the most contemporary, all created with the utmost dedication and passion.
In addition, we want to share ideas and tips on how to plan an unforgettable hand proposal in Mazatlán.
💍 Comparativa de Experiencias de Pedida de Mano en Mazatlán
To make your choice easier, we've designed this comparison chart that showcases the key features of our marriage experiences. From simple and elegant options to luxurious and detailed proposals, you will find everything you need to make that moment unforgettable. Compare durations, prices, inclusions and extras to find the option that best suits your vision and budget. In addition, each experience is linked to its specific page so you can get more details and make your reservation. In Mazatlan, every detail counts, and with our comparative table, we assure you that you will find the perfect experience for that special moment.
David Montoya is not only a Planner Experience at HolboxPhotos, he is an inveterate traveler with a soul full of adventure and more than 10 years of travel memories in his backpack. From the highest mountains to the most hidden beaches, David has traveled to corners of the world that many only dream of visiting. But what David is really passionate about is not only seeing places, but creating bonds with the people and cultures he encounters along the way. Her love for travel and her innate ability to design experiences make every proposal and event she plans at HolboxPhotos genuine and memorable.
If you are looking for someone who understands the essence of a moment and transforms it into an unforgettable experience, David Montoya is your ideal person. Because for him, more than a job, planning experiences is a way of life. 🌅🎒
Otros artículos que te pueden interesar
sigue leyendo Ideas para pedir matrimonio en Mazatlan Sinaloa 15 de mayo de 2022 sigue…