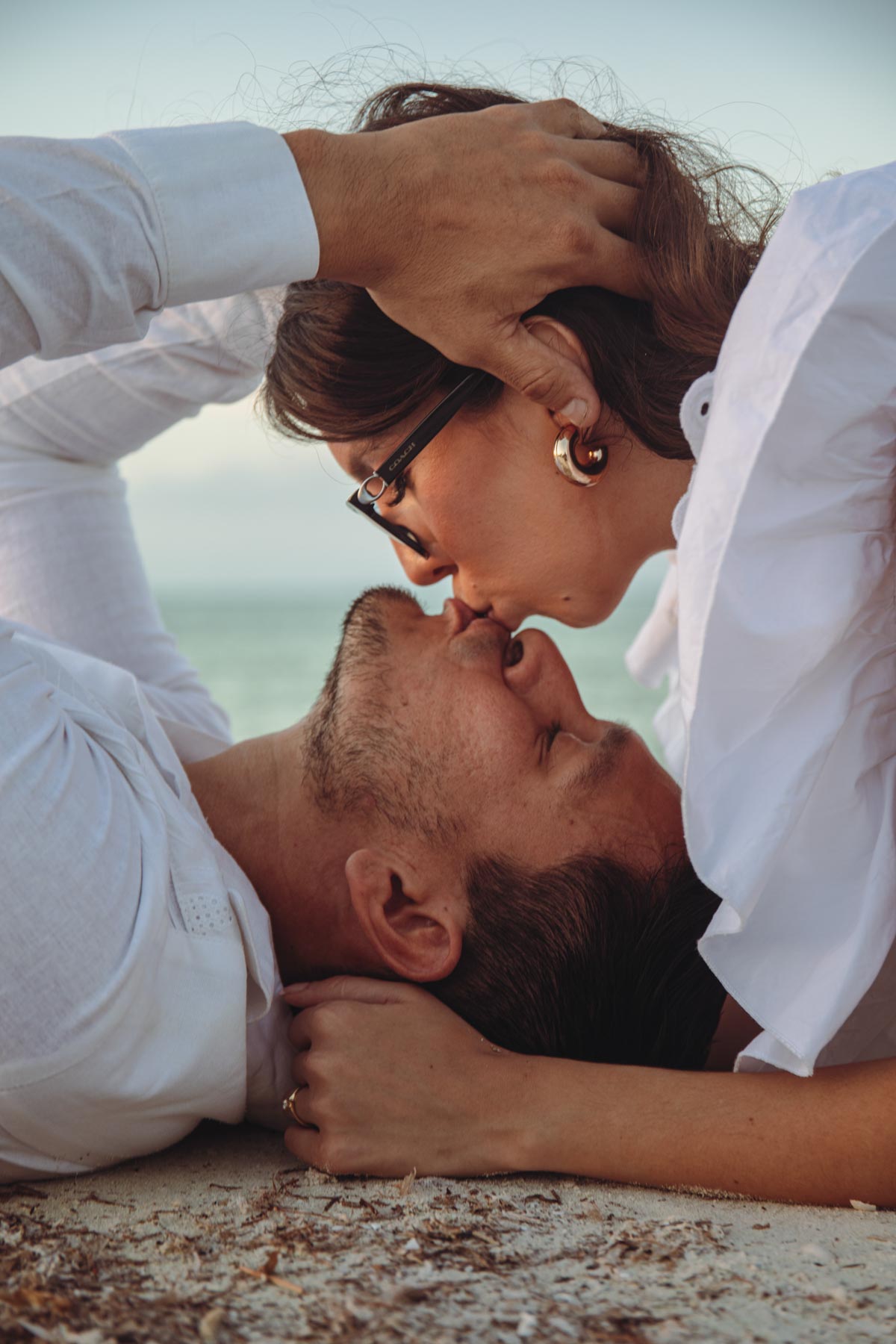 Make your marriage proposal a reality in paradise: Cancun awaits you.
Do you dream of an unforgettable marriage proposal in a magical and romantic setting?
¿Sueñas con una propuesta de matrimonio inolvidable en un entorno mágico y romántico?
Love is eternal, and our mission is to make that love materialize in the perfect marriage proposal. At Holboxphotos, we offer you the opportunity to create the most special moment of your lives on the beautiful beaches of Cancun. Discover how to make this dream come true together and start planning your dream proposal today.
TOP 1 : Caribbean Picnic. It's a very special picnic
Guaranteed excellence
4 hours
Free Cancellation
from $300
[
What better way to win a heart at sunset, with a good glass of wine and the best company by your side. The beach picnic option has become a total success this season. In terms of price, it is one of the most affordable options and at the same time one of the most genuine and romantic ways to propose in Cancun. We currently offer picnic service throughout the Riviera Maya. Each picnic is a different, unique experience, one of the most authentic that can be lived on a Caribbean beach. The results have been incredible.
In turn, this beautiful experience must not be without a memory, for that we have the best photographer in Cancun ready to frame the experience as "unforgettable". We offer different photo session packages in Cancun. To make your day indelible. We are the most active experience creators platform in the Riviera Maya.
TOP 2 : Experience the Magic of a Romantic Dinner
Guaranteed excellence
4 hours
Free Cancellation
from $300
If your style is more classic and you love the idea of tradition mixed with a touch of tropical magic, we have the perfect option for you. How about a romantic dinner at a charming seaside restaurant? We firmly believe that it's an ideal setting for a successful marriage proposal.
At HolboxPhotos, our experience planner, David Montoya, has designed unforgettable experiences for lovers. We offer you the opportunity to enjoy a romantic dinner in the most spectacular destinations of the Riviera Maya: the serene Holbox Island, the vibrant Cancun, or the picturesque Playa del Carmen.
In a setting with sea views, under a starry sky and with the melody of the waves in the background, you'll enjoy exquisite dishes while surrounded by the breathtaking beauty of these paradisiacal destinations. At the most unexpected moment, you reveal the ring and ask the most important question of your life.
An expert photographer, previously hidden, will capture this magical moment and all the precious details of your evening. From the surprise and astonishment on your partner's face to the joy and love that fill the air, each moment will be masterfully captured to be relived again and again.
After the excited 'yes' is pronounced, the photographer emerges to document the rest of your magical night, turning your proposal into an eternal memory immortalized in stunning photographs.
This romantic dinner experience in the Riviera Maya is more than a meal; it's a love story that unfolds in one of the most beautiful settings in the world. Your 'I do' will be more than a promise; it will be an unforgettable memory that captures the essence of your love.
 TOP 3 : Unveil Your Love on the Enchanting Shores of Holbox Island
Guaranteed excellence
4 hours
Free Cancellation
from $120
Imagine the scene: you're on the pristine white sands of Holbox Island, a secluded paradise where nature and romance coexist in perfect harmony. The sound of the ocean kissing the shore creates a soft, soothing melody, and the sky is tinged with pink and orange hues as the sun begins its descent. Beside you, the love of your life, whose eyes are full of surprise and expectation, a perfect reflection of the beauty that surrounds you.
In this idyllic setting, you take their hand and, with a heart full of love and a future full of promises in mind, you reveal a ring that sparkles with the same intensity as the sunset. From a hidden place, an expert photographer accurately captures the flash of surprise, the gleam of happiness, and every ineffable emotion that flows in this intensely personal and magical moment.
With the echo of the 'yes' still hanging in the air and the palpable excitement, the final surprise emerges: the photographer comes out of hiding and begins a series of magical beach photos, capturing your newly committed joy and love against the stunning backdrop of Holbox Island.
This beach proposal on Holbox Island is more than a moment, it's a milestone of love and commitment, immortalized in stellar photographs you'll treasure for a lifetime. Your 'I do' will not just be a promise, but an eternal memory, captured in a paradise of natural beauty and genuine emotion
TOP 4 : Propose Aboard a Catamaran Sailing Between Cancun and Isla Mujeres
Guaranteed excellence
4 hours
Free Cancellation
from $310 por 2pax
Visualize this: you're aboard a majestic catamaran, gliding through the turquoise blue waters that separate Cancun from the mystical Isla Mujeres. The sun bids its slow farewell, painting the sky with fiery hues of orange and red, while a gentle sea breeze caresses your face. By your side, your loved one, their eyes gleaming with wonder and anticipation, reflecting the majesty of the scene before you.
On our catamaran tour, you'll enjoy the company of a bilingual guide and have access to an onboard open bar. We'll provide you with snorkeling equipment to explore the incredible marine life on your journey to Isla Mujeres. Upon arrival, you'll be greeted at our exclusive Beach Club with a buffet lunch and open bar. You'll also have free time to visit downtown Isla Mujeres and do some shopping. Weather permitting, you'll get to experience the thrill of spinnaker sailing.
At the right moment, you take your partner's hand and, as you voice the words you've prepared, you reveal a ring that gleams with the promise of a future together. A skilled photographer, previously hidden, captures the surprise and emotion of this perfect moment.
Once the excited 'yes' is pronounced, the photographer emerges from their hiding place to start an unforgettable photo shoot aboard the catamaran, celebrating your love and commitment.
The catamaran departure times from Cancun are at 10:00 am and 12:00 pm, returning from Isla Mujeres at 5:00 pm and 7:00 pm respectively. The cost for the private charter of the catamaran is $550 USD.
For added convenience, we offer round-trip shared minibus transportation from Cancun for $10 USD per person, from Playa del Carmen for $15 USD per person, and from the Riviera Maya for $20 USD. We also offer the option of private round-trip transportation.
Our catamaran tour from Cancun to Isla Mujeres is more than a journey; it's a one-of-a-kind marriage proposal, a romantic and thrilling experience that will be immortalized in beautiful photographs forever. Your 'I do' will be more than a promise; it will be an everlasting memory sealed against the backdrop of the Caribbean's majesty.
TOP 5 : Pop the Question on the Beautiful Beaches of the Riviera Maya with a Hidden Photographer
Guaranteed excellence
2 hours
Free Cancellation
from $180
Imagine a dreamlike setting: the soft white sands of the stunning Riviera Maya beneath your feet, the murmur of the Caribbean Sea behind you, a sky painted with vibrant sunset hues. Beside you, your beloved, the golden light of dusk reflected in their expectant eyes.
As you open the small box to reveal the ring symbolizing your eternal love, an expert photographer remains discretely hidden in the distance, capturing every magical and exciting second of this monumental moment. With every gesture, every smile, every tear of joy, you're creating memories that will be etched both in your heart and in stunning high-resolution photographs.
But the magic doesn't end here. As the stars begin to decorate the night sky, and your betrothed is still recovering from the surprise and emotion, you reveal the final ace up your sleeve. From the shadows, the photographer emerges to reveal their presence, thus starting an unforgettable post-proposal photoshoot in one of the most romantic places on the planet.
This is more than just a moment, it's the fusion of emotion, surprise, and beauty, all encapsulated in timeless images that you can relive over and over again. With our hidden proposal photography service in the Riviera Maya, your 'Yes, I do' will be more than a promise; it will be an eternal memory captured in paradise.
TOP 6 : Pop the Question Aboard a Catamaran in Enchanting Isla Holbox
Guaranteed excellence
2 hours
Free Cancellation
from $260 2pax
Envision a gentle, warm breeze caressing your skin as the sun slides toward the horizon, bathing the world in a rainbow of vivid colors and subtle hues. You find yourself aboard an elegant catamaran, floating on the crystal-clear turquoise waters surrounding the charming Isla Holbox. By your side, your beloved, their eyes filled with anticipation and excitement, reflecting the beauty of the landscape surrounding you.
You take their hand, and as words of love flow from your lips, you reveal the symbol of your eternal commitment, a ring that glows with the same luster as the setting sun. This precious and emotional instant is expertly captured by a hidden photographer, who has been documenting every glance, every gesture, every detail of this magical moment.
With the 'yes' still resonating in the air and the palpable emotion, your partner discovers that there's one final gift. The photographer emerges from hiding, ready to take a series of romantic photos aboard the catamaran, as you both immerse yourselves in the magic of your engagement.
This catamaran proposal in Isla Holbox is more than a moment; it's an unforgettable adventure of love and commitment, encapsulated in stunning photographs that will last a lifetime. Your 'I do' will be more than a promise, it will be an everlasting memory, immortalized on a canvas of natural beauty and genuine emotions.
Nuestras experiencias en pedidas de matrimonio en Riviera Maya y alrededores son un éxito.